FreeNAS and TrueNAS to unify: meet TrueNAS CORE

FreeNAS is one of the leading dedicated NAS operating systems. Born in 2005 it has become one of the most ubiquitous operating systems when it comes to NAS. TrueNAS is FreeNAS enterprise version with more features geared towards enterprises. According to a blog post from iXsystems, the two are being merged: welcome TrueNAS CORE.
FreeNAS, TrueNAS and TrueNAS CORE
I've spoken about FreeNAS and ZFS in a number of articles. What you may not know is TrueNAS. TrueNAS is the enterprise version of FreeNAS, it is a product bundled with physical appliances sold by iXsystems. Traditionally TrueNAS has had more features than FreeNAS since it was geared towards enterprise. TrueNAS is also tuned for known hardware and commercially supported with high availability setups available.
FreeNAS however, according to its authors, is now changing name into TrueNAS CORE, but it is not a mere change of skin. FreeNAS and TrueNAS have gained feature parity in version 11.3 sharing 95% of the code. However, they two images are built separately and their release cycle differs. This changes with TrueNAS CORE: the development is now unified and the produced image is now one as well.
TrueNAS CORE and TrueNAS Enterprise

While TrueNAS CORE will be the base for the future releases of both FreeNAS and (old) TrueNAS, there will still be an "enterprise edition" called TrueNAS Enterprise. This new version will contain several enterprise-grade feature that will be unlocked using a product key. A iXsystem appliance will come preinstalled with TrueNAS CORE and the aforementioned key. You can find a summary of features in the following table: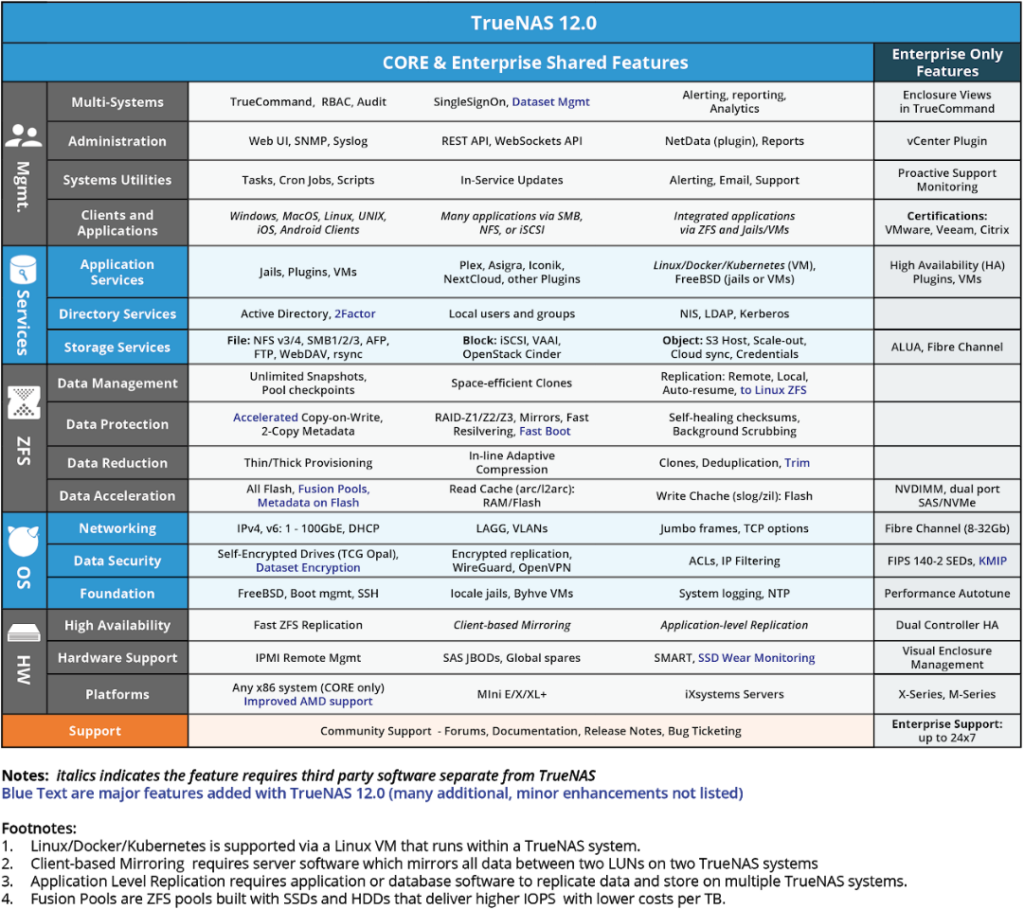 Benefits and FAQs
According to iXsystems the following benefits will be achieved:
Rapid Development: Unified images accelerate software development and releases (for example, 12.0 is a major release that would normally have taken 9-12 months to release, and with these new efficiencies, we are bringing that closer to six months)

Improved Quality: Reduced development redundancy and unified QA increases software quality and allows us to streamline testing

Earlier Hardware Enablement: Staying in-sync with upstream OS versions will be easier, allowing earlier access to newer hardware drivers. For instance, 12.0 brings improved support for AMD EPYC / Ryzen platforms and enhanced NUMA support for more efficient CPU core handling.

Simplified Documentation: Unified documentation eliminates redundancy such as separate user guides

Reduced Redundancy: Unified web content and videos refer to one software family without the need for duplication

Flexibility: Unified images enable simpler transitions or upgrades between editions

Resource efficiency: Frees up developers to work on new features and related products

OpenZFS 2.0: The planning for the "unified" 12.0 release began over a year ago and included the major investment in the development and integration of what will soon be released as "OpenZFS 2.0". This effort is fast-forwarding delivery of advances like dataset encryption, major performance improvements, and compatibility with Linux ZFS pools.
The developers also published a few key questions about the transition:
Will TrueNAS CORE still be open source and free?

The answer is 100% yes.

Will TrueNAS CORE have fewer features than FreeNAS?

The answer is 100% no. In fact, TrueNAS CORE will have MORE features than FreeNAS does today.

Will any "free" features now only be made available in TrueNAS Enterprise?

Nope. We have no intention of removing features from TrueNAS CORE. Hopefully, we've eased your minds. 🙂
It is worth noting that:
TrueNAS CORE is already available (in nightly builds) through truenas.com, moving on the freenas.org domain will be slowly replaced.
TrueNAS developers are calling for suggestions through their ticketing system, you can shape the future of TrueNAS CORE.
The important detail: OpenZFS 2.0
ZFS is the key technology behind FreeNAS and the soon-to-be TrueNAS Core. What you may not know is that ZFS has always been mainly a BSD thing with some efforts to integrate it with Linux. Because of some legal issues (ZFS being technically under Oracle), ZFS was never merged in Linux, instead a kernel module was created: the ZFS on Linux (ZoL) project.
Because of differences between ZoL and the native ZFS for BSD, storage pools could employ different flags that made pools incompatible across the two systems. Meanwhile a fork of ZFS called OpenZFS continued the development. Starting with OpenZFS 2.0 the OpenZFS project will employ code from ZoL and transition away from the name. The new "OpenZFS for Linux and FreeBSD" aims to reduce the incompatibilities between pools created by different systems. As a matter of fact the two platforms will share the same code in the future.