NextCloud 13 new features, NextCloud surpasses OwnCloud!

NextCloud is a Dropbox-like software that enables you to store and sync your files originally forked from the popular cloud-building software OwnCloud. At almost two year after the fork, as you'll see shortly, NextCloud has become a solid software of its own and that is bound to be consolidated by the upcoming NextCloud 13 release.
When will NextCloud 13 be released?
NextCloud 13 is currently scheduled to be released between 17 and 24/01/2018.
NextCloud Talk: Private Web Conferences, Call and Screensharing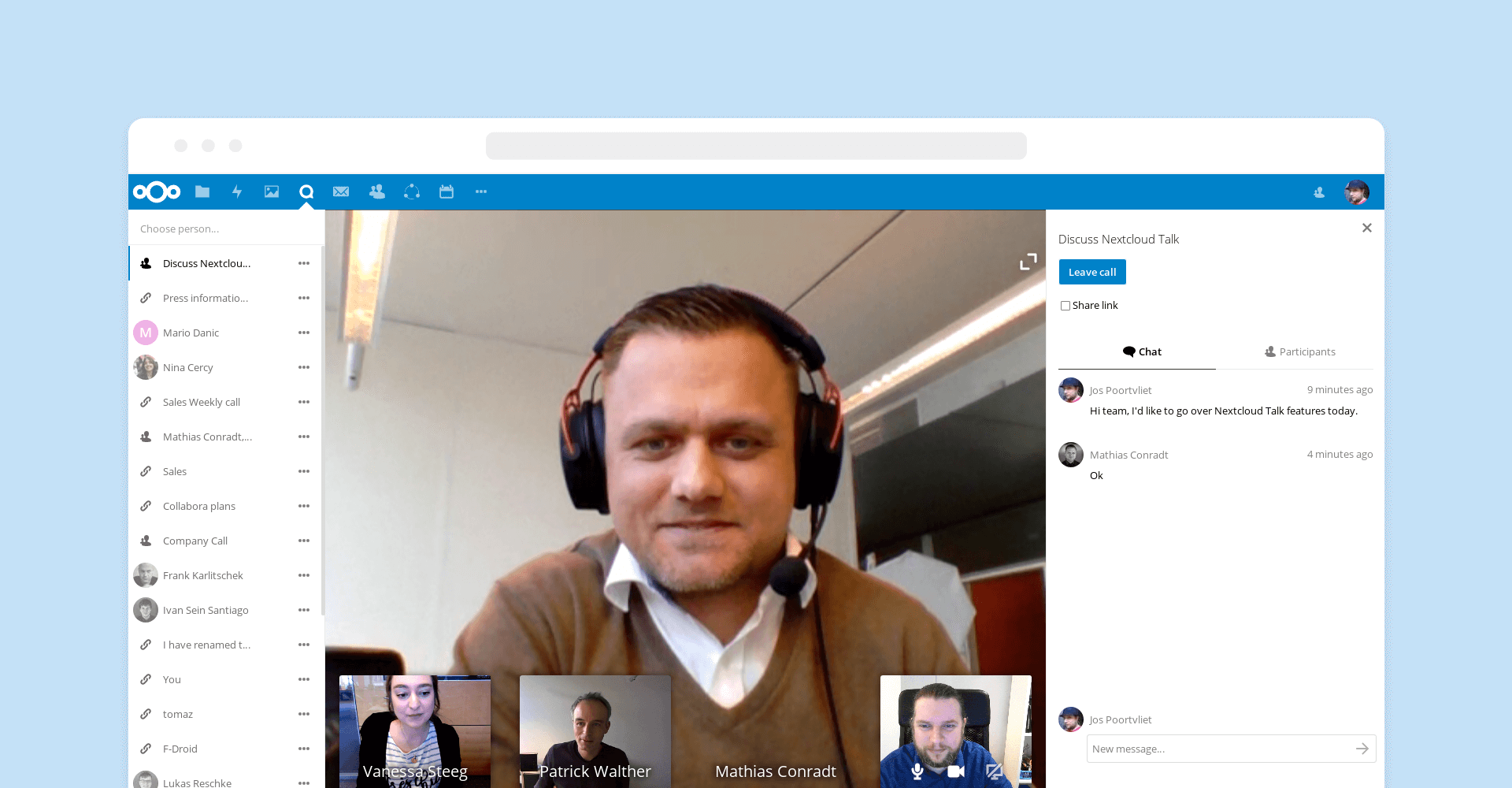 Meet NextCloud Talk, a new integrated application bringing Web Calls/Conference and Screensharing capabilities to NextCloud. In a world where privacy is becoming scarcer than ever, this application offers a real, privacy-oriented Skype alternative. Built on top of WebRTC it is also capable of HD (H.265) call, providing a quality, self-hosted, and privacy-aware solution to home users and enterprises alike. NextCloud Talk is fully integrated in NextCloud and has many features (for a list refer to the official page). You can read the full announcement here.
End-to-End encryption comes to Nextcloud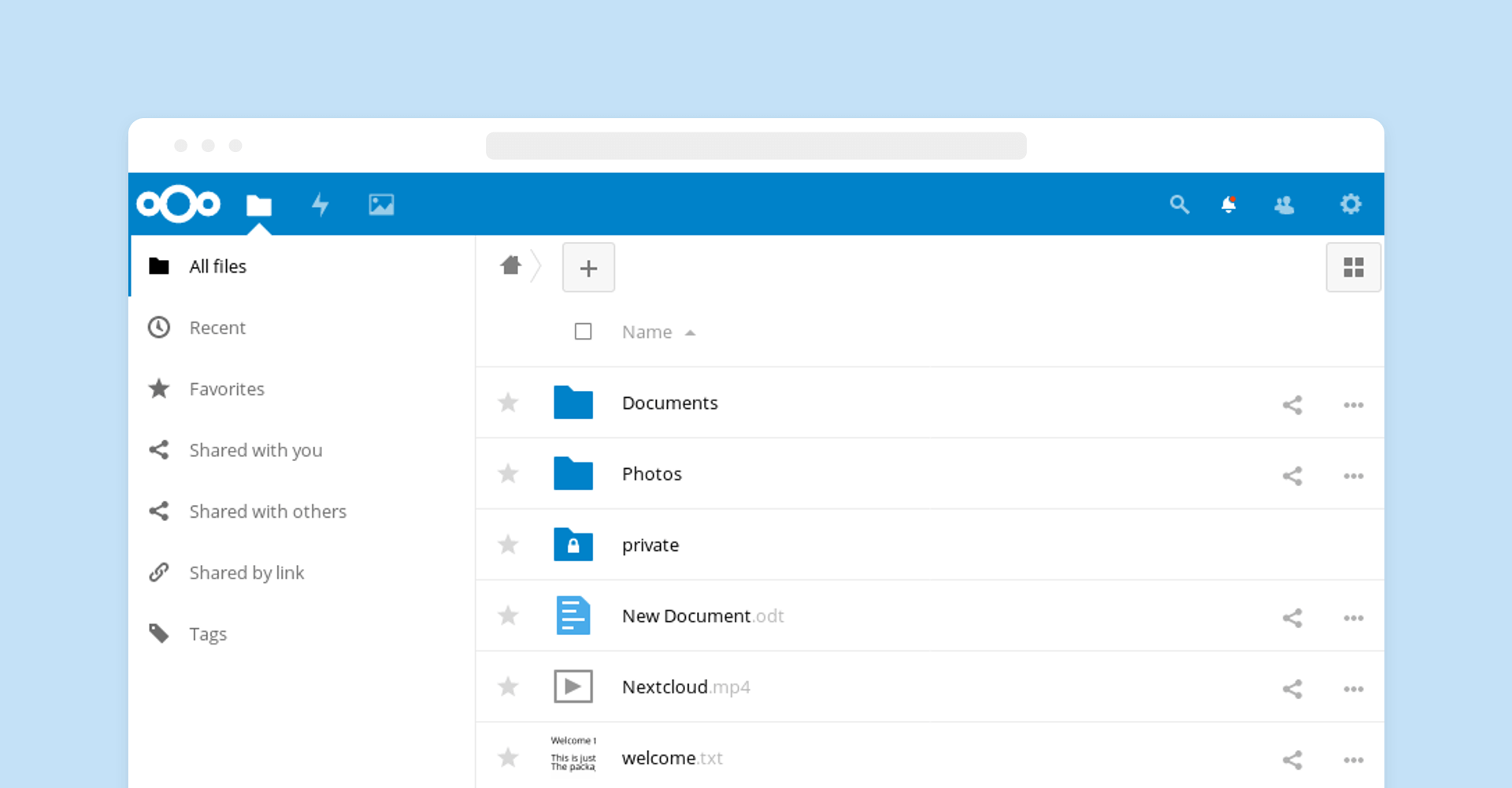 Nextcloud End-to-end Encryption keeps the server from ever seeing the data while still facilitating syncing between devices and sharing with other users. It does not compromise security by using browser-based decryption, features secure key management so users don't have to swap passwords, does not require re-encrypting large files to add or remove access privileges and it has important enterprise capabilities like an offline recovery key and Hardware Security Module (HSM) support. Rather than requiring users to create and manage (and never forget!) passwords, we use a device-generated passcode which can be recovered from any device the user owns or, of course, from a piece of paper.
Following the privacy-awareness of NextCloud Talk, NextCloud 13 will be able to provide end-to-end encryption. Encryption, much like privacy, is a hot issue nowadays and the ability to ensure a safe communication nothing to be laughed at.
NextCloud end-to-end encryption will enable users to encrypt files on a per-folder level using secure keys. Most importantly, user privileges can be revoked at any time without decrypting/reuploading files making NextCloud an ideal solution compared to block-level encryption (such as TrueCrypt) over Dropbox-like services.
Finally, the end-to-end encryption will be available on Android, iOS and desktop clients. Here you can read a list of important features directly from the announcement:
Any number of folders can be end-to-end encrypted
Users can easily add new devices using a code that consists of 12 dictionary words
Sharing and revoking shares does not require users to create or enter passwords and has no need to re-encrypt (and re-upload) files.
We rely exclusively on client-side encryption: no possibly compromised code that comes from the server (like in a browser) is trusted. The server never has access to unencrypted keys or unencrypted data.
Enterprise solution designed to protect users from making mistakes with long, device-generated passcode and recovery capabilities
The design supports a Hardware Security Module for enterprise environments which enables securely issuing new keys to users
We support creating an off-line administrator recovery key which can be kept in a physically separated location like a safe. Users get warned when this key is enabled.
Our design supports a complete audit log without compromising end-to-end security.
LDAP up to 85% faster in NextCloud 13
The average home user won't even notice this one, but it will have a huge impact for small business and enterprises using LDAP. As you can see from the video, the username lookup is almost instantaneous. While a home user might experience even faster results with few users registered, the system in the video is looking through thousands of users. Developers reported this action could even take as long as 15 seconds to complete before NextCloud 13.
Conclusion: NextCloud bigger than ever, even more than OwnCloud
I remember when the fork started, NextCloud was no more than a copy-paste with a skinny website and many promises. For a long while I believed OwnCloud would be "the winner" (OwnCloud X/10 is quite interesting, though) and dismissed NextCloud as a failed attempt. Let me say I was completely wrong at the time, and release after release NextCloud has won users' hearts more and more.
Although NextCloud 13 doesn't bring as many new features as Nextcloud 12, this release packs two big ones (end-to-end encryption and Talk) and a plethora of bug-fixes. With each release new features show up and new bugs get closed, as the process continues and new releases are made available both features and bug-fixes stack resulting in a growing, refined, quality product.
With an eye looking to businesses and a ear listening to the community NextCloud is creating something incredible, never seen before in this field.
Image courtesy of
mark
| marksei