Build your very own cloud with NextCloud

NextCloud is a Dropbox-like software that enables you to store and sync your files both with a standalone client and a easy-to-use web interface. NextCloud is a fork of the popular cloud-building software OwnCloud and shares many features with it. Everything you can do in OwnCloud you will probably be able to do in NextCloud too.
NextCloud overview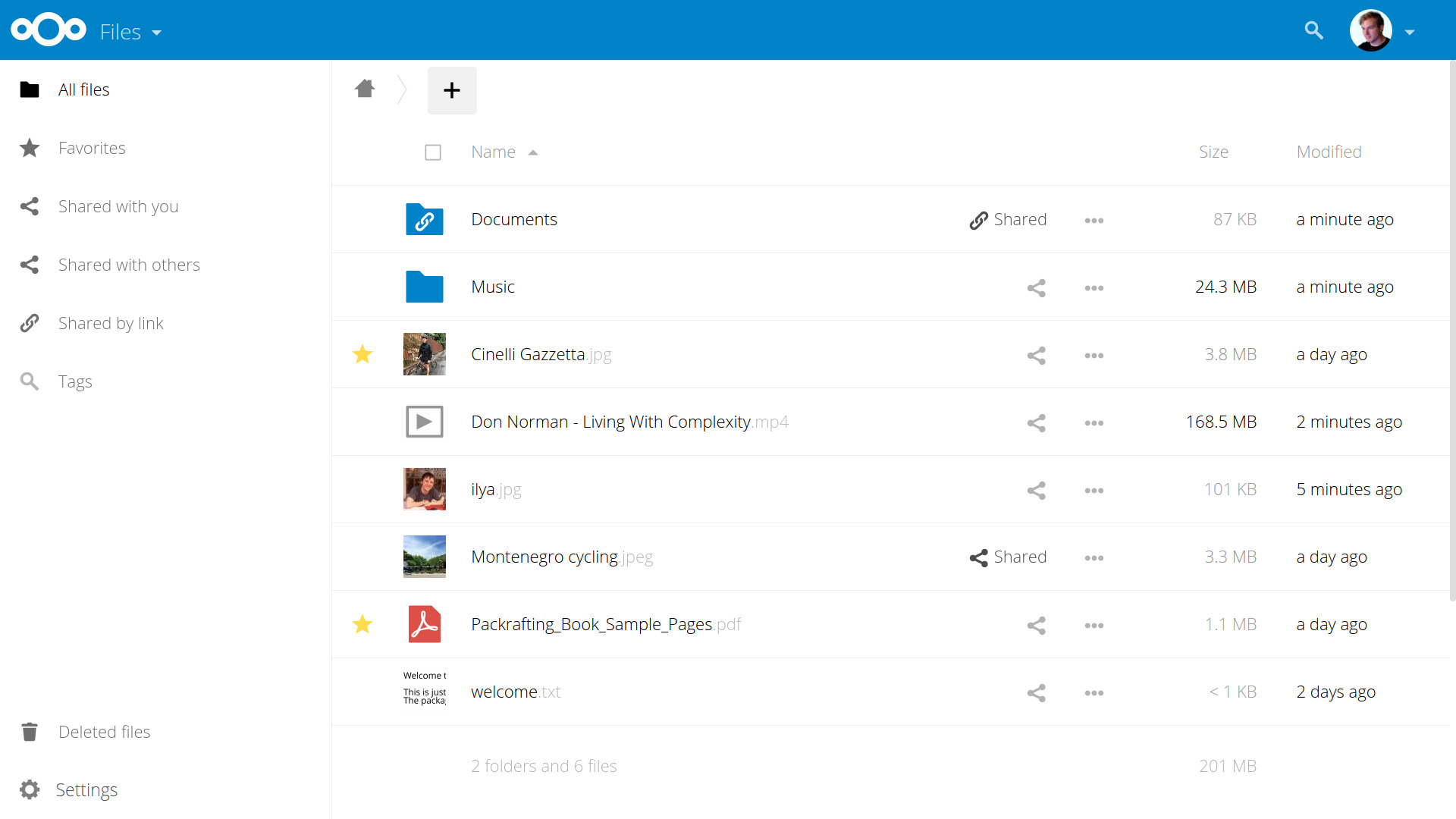 Although its primary scope is to share files, NextCloud can be extended by many apps and has an impressive list of features:
File storage: NextCloud is first and foremost a self-hosted alternative to Dropbox. You can access the files either using the Web UI or you can use WebDAV which is supported by all major operating systems.
File versioning: files history is kept in NextCloud, allowing precedent versions of the same document to be restored.
File synchronization: by using the client you can synchronize local folders to/with the server. The client is freely available for Windows, Linux and Mac OSX. Mobile clients are available for Android, iOS or even BlackBerry (with a little price).
Multi-user: NextCloud has support for multiple users with granular access to files. It also supports centralized users with the LDAP plugin.
File-sharing: You can share files or entire directories with local users on the same server (and control their permissions).
Federated cloud: this feature enables to share files (and other things) with other NextCloud instances (retaining full control over permissions).
Modular architecture: NextCloud is structured in apps that enable developers to add functionality to the core product.
Calendar: with the Calendar app you can keep multiple calendars and even synchronize them across multiple devices that support CalDAV protocol.
Contacts: much like with the Calendar app, the Contacts App allow you to keep your contacts and synchronize them using the CardDAV protocol.
Open Source: it always figures last in my lists, but to tell the truth it should always be the first item. The possibility to look inside the code makes you feel confident about what the software is doing and that it is not spying on you.
This list is a bit short, you can find out all the new features on this page.
Differences with OwnCloud
Thanks to NextCloud policies and proactive thinking there are quite a few differences with OwnCloud:
Faster development: in the original OwnCloud project, many issues and feedbacks by the community were ignored or could take years to be worked, that's not the case with NextCloud.
Easier contribution: despite both are open source, OwnCloud requires a Contributor License Agreement to be signed, while NextCloud does not.
Newer, better apps: the app store has been completely revamped (compared to OwnCloud) and now features many applications that just work.
Streamlined UI: many OwnCloud applications suffered of different designs and different concepts that disrupted the user experience.
Important bugs fixed: many bugs that rendered many apps unusable (e.g. Gallery) were fixed with NextCloud 10 release.
Drop-in: the last fully-compatible version is NextCloud 9. Starting from version 10 things start to get more vague, but it is indeed possible to switch easily from OwnCloud.
Security: NextCloud has a special focus on security supporting authentication techniques (like LDAP authentication and Kerberos).
Enterprise features: although OwnCloud is free, only its core is truly free. Another version called "Enterprise Edition" offers enterprise features (e.g. Shibboleth authentication). NextCloud is entirely free and uses Professional support as main source of revenues.
Advanced features: NextCloud may be younger than OwnCloud but features many advanced features like Collabora Online integration (Google Docs-like online document editing powered by LibreOffice). Another interesting feature is web calls/collaboration using Spreed.me .
Conclusion
You're now aware of NextCloud, a simple and complete solution to your storage, synchronization, calendar, contacts needs and much much more. You're also aware of the differences with OwnCloud, its "father" project. If you're still not convinced you can find a demo of the web interface here. Be sure to continue following, in the next few weeks I will post tutorials on how to install NextCloud on the major Linux operating systems.
Image courtesy of
mark
| marksei