NextCloud 14 released: cloud federation to the next level

NextCloud is a Dropbox-like software that enables you to store and sync your files originally forked from the popular cloud-building software OwnCloud. With NextCloud 14 the most popular personal cloud software seeks to consolidate its features, add security and improve federation.
When will NextCloud 14 be released?
NextCloud 14 is currently scheduled to be released 06/09/2018.
File sharing and collaboration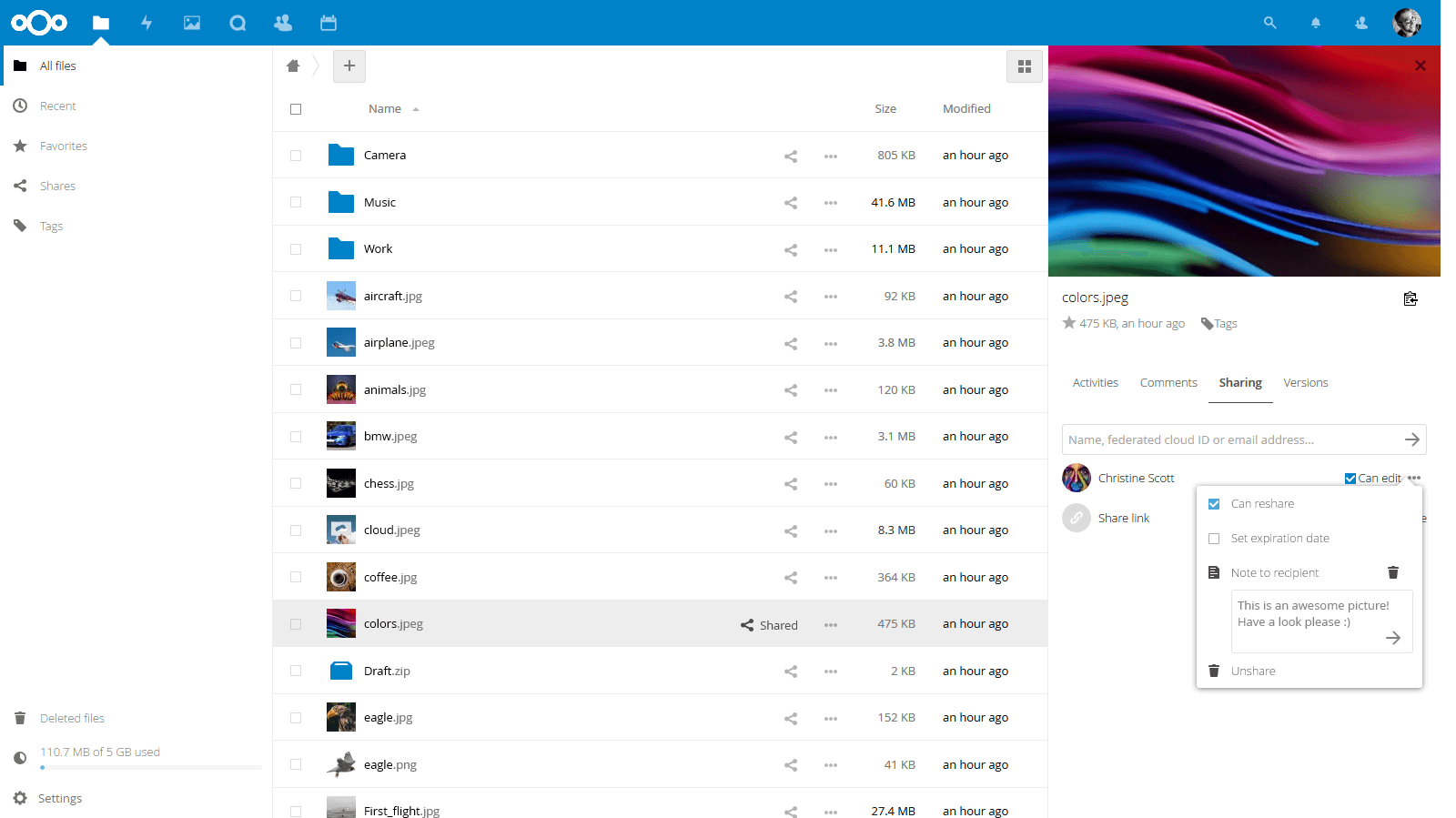 File sync and share is evolving – working with others is becoming more and more important. You don't share a document simply for somebody else to download it, you want them to give you feedback on it, or make changes! Nextcloud 14 makes progress in this area. You could already comment on files, but a share can now have a note attached as well. And you can search for files by content of comments, so if you don't remember the name but something you said about it, it will pop up!
NextCloud really shines when it comes to sharing files with multiple users, thanks to their federated approach it is also possible to share file across multiple federated NextCloud instances and users. In NextCloud 14 it is now possible to share to groups on another server. The possibility to attach a note when sharing a file is especially useful in enterprise environments.
Talk and Groupware
Talking of video calls, there have been a lot of improvements in Talk and some big new improvements are still coming. Here's an overview of what is new and better:

Possibility to join without Camera/Microphone
Backend integration: MCU, SIP-Bridge, ext. Signaling
Allow to join multiple chats in different browser tabs at the same time
Conversation list is now sorted by last activity (rather than own visit)
Conversations can be pinned to the top of the conversation list
Chat works without requesting Camera/Microphone
Participants can be @mentioned in the chat now
Number of unread chat messages + special highlight when you got mentioned in conversation list
System chat messages (basically inline activity stream for the respective conversation)
Chat in the mobile apps

The Nextcloud Groupware suite introduces resource booking in the calendar app. A major area of improvement has been the Deck app, a digital Kanban board, which has now officially been added to Nextcloud Groupware. It features integration with Nextcloud Files and offers an easy to use tool for teams to plan their projects.
Video verification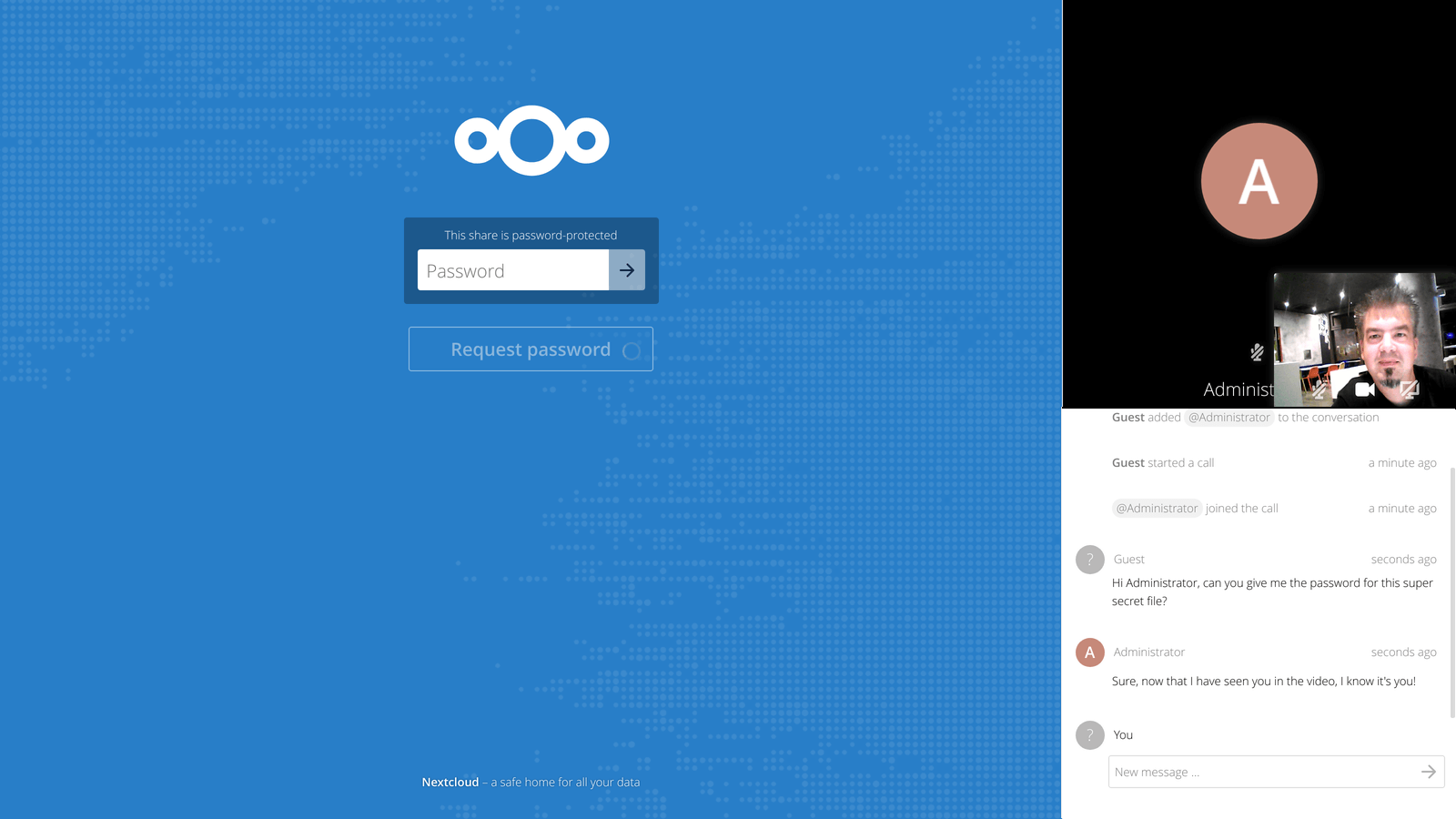 When a share link is created for a document or folder, users can opt to receive a video call on their desktop or phone when the recipient accesses the link, giving them a chance to verify the identity of the recipient before telling them the password.
Signal/Telegram/SMS 2FA
A new 2-factor authentication provider named 'gateway' was introduced which allows users to use the secure messaging apps Signal and Telegram as well as various SMS gateways as second factor to secure their authentication.

Note that especially the Signal one relies on a third party docker container, so take some care and perhaps help us to whip this further into shape! Your feedback, testing and code are, of course, extremely welcome. That's what a community project is all about!
The introduction of a 2FA mechanism in NextCloud enhances the security of an already solid and secure software. Having 2FA enabled will enable users to protect their accounts against brute-forcing, stolen passwords and password guessing.
Of course you can expect a tutorial coming in the next few weeks after the release date of NextCloud 14 to set up Signal with Docker, just like the Collabora Online in NextCloud tutorial.
Simple Signup
The Simple Signup program brings down the barrier to a private cloud another big and final step. When starting up a Nextcloud client on Android, iOS or the desktop, you will be presented with a sign up option, which has a preselected provider from a list of vetted providers close to the physical location of the user. While you can choose another provider from the list, you can proceed right away, entering an email address, choosing a password and after a short while you will find yourself logged in on your brand new Nextcloud instance!
The Simple Signup program lowers the barrier for new users. This is especially useful for user who can't setup/self-host their own NextCloud instance.
NextCloud meets Japan
We are excited to announce that through a partnership with NEC Platforms, Ltd. and Waffle Computer, Ltd., millions of routers will be equipped with Nextcloud, bringing secure, federated and private file exchange to their users. The global network of hundreds of thousands of Nextcloud servers, capable of seamlessly exchanging data with each other, will thus be extended by millions of new nodes over the course of several years.
With the deployment of Nextcloud on the upcoming generation of routers from NEC Platforms, Ltd., the global network of federated Nextclouds will be expanding with millions of nodes, starting in Japan. This marks a significant step for Nextcloud and its users, bringing even greater momentum to the meteoric growth of Nextcloud.
The choice to deploy NextCloud on routers will push the project further and it is a really interesting choice! Although it is possible that this choice may raise security concerns: routers are often equipped with outdated software, it is still early to doom an interesting approach to enable people to regain control over their data.
NextCloud and GDPR compliancy
Nextcloud solidifies its position as the easiest file exchange solution to achieve compliance with regulations like the European GDPR and the upcoming California Consumer Privacy Act. This release introduces a Data Protection Confirmation app and separate audit log file, complementing to the existing Impressum/legal notice and data request apps available in the Nextcloud Compliance Kit
With privacy concerns first on the list on the world's agenda, NextCloud simplifies the procedure to comply with one of the most restrictive privacy laws: the European GDPR.
Image courtesy of
mark
| marksei