NextCloud 17 new features: remote wipe and Spectrum Scale

NextCloud is a Dropbox-like software that enables you to store and sync your files originally forked from the popular cloud-building software OwnCloud. After surpassing OwnCloud it is now the de-facto selfhosted solution for file sharing. NextCloud 17 brings new functionalities and some security enhancements.
Remote Wipe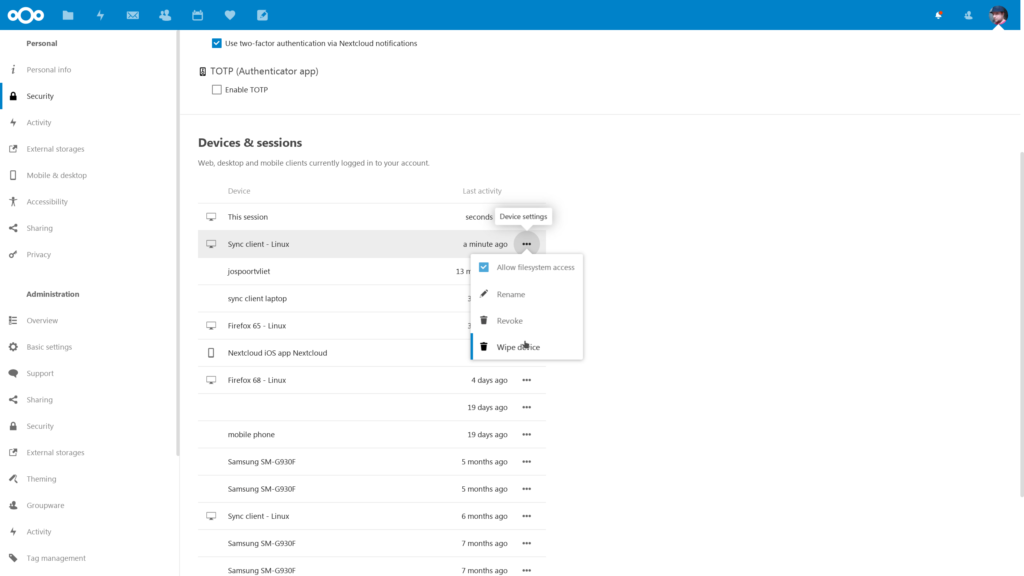 One of the major features of NextCloud 17 is the Remote Wipe. This feature allows users to remotely wipe their connected devices on a per-device basis and administrators to wipe devices on a per-user basis. This empowers users to effectively control their data, remotely.
NextCloud Text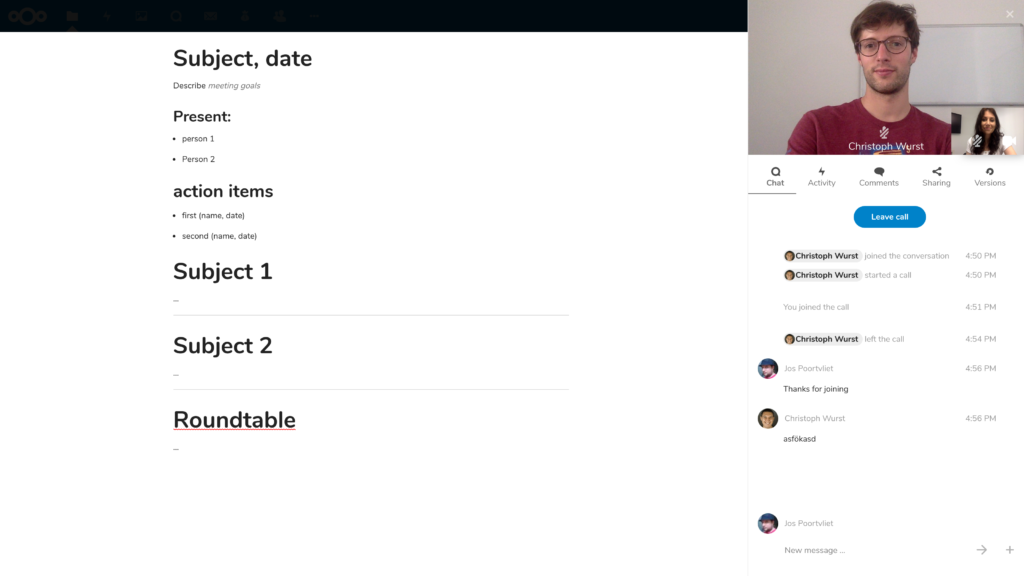 In addition to NextCloud and Collabora online integration, NextCloud 17 gains the new NextCloud Text app. Text is a collaborative rich-text editor perfectly integrated with current NextCloud functionalities. In the screen above you can see the new NextCloud Text app alongside a NextCloud Talk call.
Security: 2FA on first login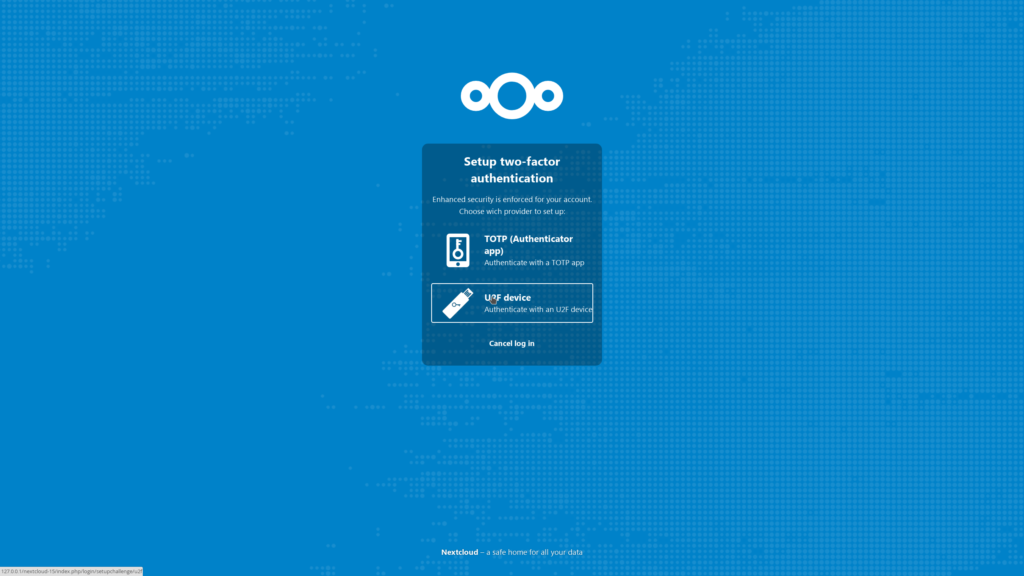 Users can now be prompted or forced into enabling 2FA authentication at the first login by the administrator. NextCloud currently supports the following 2FA methods:
Time-based One-Time Password (TOTP, including Google Authenticator or similar apps)
Universal 2nd Factor hardware tokens (U2F, like Yubikeys or Nitrokeys, also supports NFC)
Gateways: SMS, secure messaging apps Telegram, Signal and more
Notification (just click to approve login on an existing device like a phone)
User backup code (User has to generate these in advance and store them in a safe location)
Administrator backup code (creating those can be delegated to group admins)
Watermark for documents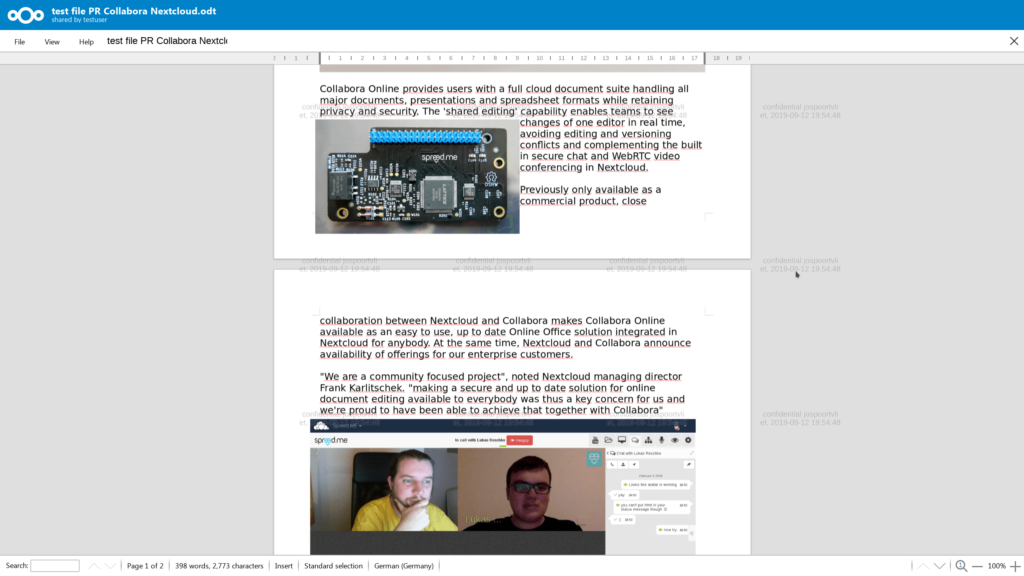 Documents can now be opened through Collabora, Onlyoffice apps with a watermark applied automatically, when tagged accordingly. The administrator can control this behavior and set it up automatically for read-only or all shares.
Secure mailbox for Outlook plugin
Thanks to this feature content of sent emails and attachments can be protected from interception. The whole email stack is based on insecure protocols. When using this method the recipient will receive a mail with a link and optionally a password (which can be sent using another channel). The recipient will have to click the link and log into his guest account in order to access all of the mail contents.
S3 versioning
Nextcloud 17 introduces S3 versioning support which allows a Nextcloud server to use the native versioning of S3 rather than its own. This allows a system administrator to manage versions using native S3 tools but, when used with S3 as external storage, also improves compatibility with other applications which access the same data. Nextcloud will then be able to recognize versions created by these other applications, and vice versa.
IBM Spectrum Scale integration
IBM Spectrum Scale is high-performance clustered file system software developed by IBM. It can be deployed in shared-disk or shared-nothing distributed parallel modes. It is used by many of the world's largest commercial companies, as well as some of the supercomputers on the Top 500 List. For example, it was the filesystem of the ASC Purple Supercomputer which was composed of more than 12,000 processors and had 2 petabytes of total disk storage spanning more than 11,000 disks. Wikipedia, The Free Encyclopedia
Spectrum Scale is a proprietary clustered file system (similar to the open source ZFS, Btrfs) developed by IBM. Many large companies and universities have been inquiring about this possible integration, hence NextCloud and IBM started working on it.
Other new features
Although this article covered the major new features, there is a number of minor, yet relevant, changes that you can read in the official announcement here.